Ages 21 and Up
This show is at The Sound
2260 Jimmy Durante Boulevard, Del Mar, CA
BELLY UP PRESENTS
AT THE SOUND
Del Mar Fairgrounds
2260 Jimmy Durante Blvd
Del Mar, CA 92014
THIS SHOW IS NOT AT BELLY UP.
Ticket Price: $45 general admission / $75 reserved seating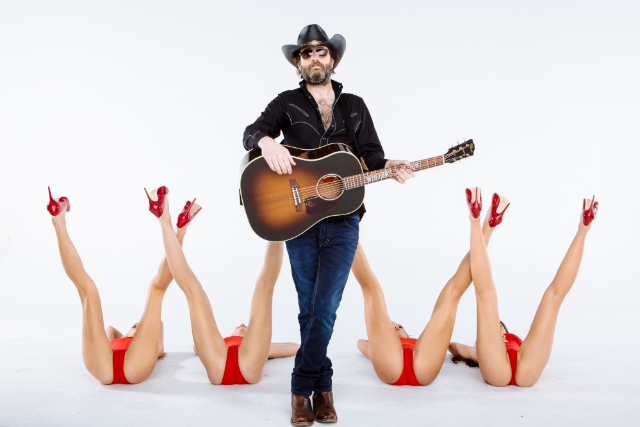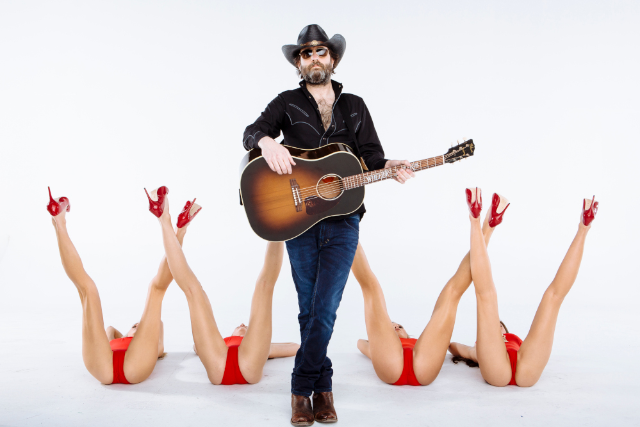 Wheeler Walker Jr
That sound you hear is the entire city of Nashville wetting their pants–some in excitement, most in fear–because Wheeler Walker Jr. is back. After months in legal limbo due to his involvement in the January 6th 2021 Capital riot, Wheeler's release of his album, "Sex,Drugs & Country Music" has many claiming it is already the greatest country album of all time. Since he disappeared 4 years ago, many thought Wheeler was finished. But a strange thing happened after he left-he only got bigger! His mystique grew, his popularity surged and his music was consumed to such an extreme that he was the 3rd most streamed country artist in the world in 2021. (A fact Music Row is trying to keep quiet... artists that speak their minds have a tendency to be ignored byNashville's top brass). His fanbase grew exponentially as well. Countamong his new fans Killer Mike, Snoop Dogg... and even another "poetof his generation" ...Wheeler blushes and laughs at the mention of Bob Dylan. "How'dyou find that out! I didn't tell anybody! Must've been someone on hisside who leaked it." When pressed for more details, Wheelercontinues... "When Bob Dylan calls you it's not like when a normalperson calls... it's an event. It's planned. You have to wait by thephone, a bunch of his people get you ready... and then Dylan gets onand just laughs and he told me he 'got it' and he's a huge fan andlistens to my albums on repeat. I love Dylan, and it was cool, but he'sjust a human. No different to me than when Billy Joe Shaver called meup a few years back. I stole more licks from Billy Joe, so that onemight've been even cooler, all things considered."
Out of the touring game for almost half a decade, Wheelerdecided to celebrate the new record with a show at the Ryman, "themother church of country music.""When I started, I was told they'd never let me play there, and if Idid, I'd only sell ten tickets. Then I sold the place out in 24 hours"Wheeler brags. He continues, "If it pisses people off, good. Morepeople should be pissed off about the sorry state of country musictoday."One listen through "Sex, Drugs & Country" reveals where Wheeler's unrivaled confidence comes from. Once again produced byDave Cobb (except the song "God Told Me To Fuck You," which was produced by someone else) and recorded at historic RCA Studio A, the album is a loud, unapologetic roar of a comeback. Wheeler explains, "I figured if I'm gonna save country music, why not save Rock 'n' Roll too while I'm at it?"

Then Wheeler gets serious: "The last couple of years have beentough. We lost Billy Joe. We lost Norm. I lost a lot of people close tome. But they wouldn't want me to make a downer of an album. Noone wants to hear another sad album about the pandemic or Adele'sstupid divorce that no one cares about."With songs like "Fucked By a Country Boy," "Sluts In Heaven" and"Honky Tonk Whore," nobody's going to have to worry that Ol'Wheeler's gone soft.

Then Wheeler cuts to the chase: "Ihaven't become the hottestthing in Nashville because everybody else here sucks. They do, and thatcertainly helps. But I've become the biggest name in country musicbecause I'm the best one doing it. I used to be the best, and now I'meven better. Which even I didn't think was possible."

Try listening to his music without shitting your pants. We dare you.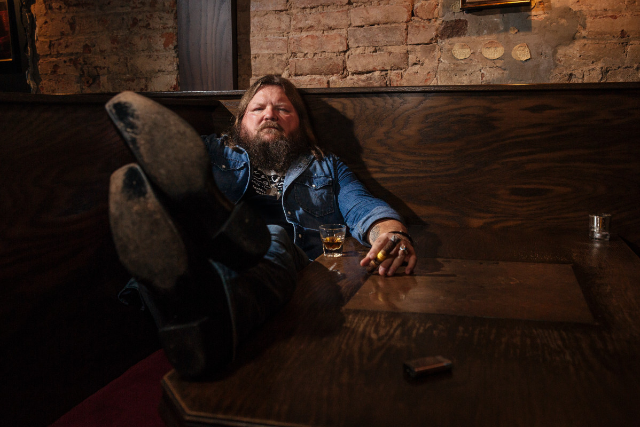 Channing Wilson
For Georgia-bred country artist Channing Wilson, writing great songs means living each day with an immense depth of empathy, curiosity, and devotion to inspiration. "A songwriter can't live 50 lifetimes—but if he's worth his weight in anything, he'd better be able to write like he has," Wilson says. With his past triumphs including penning songs for heavy-hitters like Luke Combs—as well as sharing bills with the likes of Steve Earle, Billy Joe Shaver, and Robert Earl Keen—Wilson now brings his warmly nuanced truth-telling to his long-awaited debut album Dead Man. Produced by eight-time Grammy-winner Dave Cobb (Sturgill Simpson, Jason Isbell, Chris Stapleton), the result is a timeless and truly singular body of work, revealing Wilson's rare gift for turning the most painful aspects of the human condition into songs of life-affirming beauty.
The first album ever recorded at Cobb's new studio in Savannah, Dead Man embodies a bare-bones yet hard-hitting sound perfectly suited to the uncompromising character of Wilson's songwriting. In laying down its 10 thrillingly raw but finely crafted tracks, Wilson worked with a stellar lineup of musicians including guitarist Leroy Powell (Shooter Jennings, Cody Jinks), bassist Brian Allen (Lori McKenna, Chris Shiflett), and drummer Chris Powell (Brandi Carlile, The Highwomen), drawing abundant inspiration from the classic work of country legends like Willie Nelson. "Those are the kinds of records I'm going after, more than trying to push boundaries with the production," says Wilson. "My whole intention was to just capture the song the way it should be."
On the album-opening "They Don't Make A Drink That Strong," Wilson immediately proves the power of his instincts, unleashing a glorious feel-bad anthem built on lush 12-string guitar tones and moody riffs in drop-D tuning. Initially written as a Delta blues tune, "Dead Man Walking" arrives as a darkly charged epic whose final minute takes on an exhilarating intensity, fueled by Wilson's haunted and howling vocal performance. And on "Gettin' Outta My Mind" (co-written with Kendell Marvel), Dead Man delivers its most wildly joyful moment: a groove-heavy and galloping track showcasing Wilson's more playful side as a lyricist (from the chorus: "I'm going back to gettin' outta my mind/Back to getting stoned to the bone/Doing wrong and doing it right").
All throughout Dead Man, Wilson imbues his songs with a rich emotionality that closely echoes a core tenet of his songwriting practice. "One of my techniques is to never completely get over heartbreak," he says. "You've got to leave those wounds open, so that they're there whenever you want to write a great song. The side effect is you're constantly hurting, but that's the price you pay for inspiration." On "Beer for Breakfast," Wilson presents a particularly gutting portrait of heartache, magnifying the song's lonesome mood with sorrowful guitar work and tender piano melodies. "When I was a kid, the father of a good friend of mine was a bad alcoholic; he was drunk all day every day on the cheapest Canadian whiskey there was," he recalls. "There's really nothing sadder than to wake up and start drinking, and that song is me trying to create a snapshot of the saddest room to be in." Next, on "Blues Coming On," Dead Man slips into a strangely sublime moment of existential longing, setting Wilson's unbridled vocals against a psychedelia-tinged sonic backdrop. "Growing up I lived near the railroad tracks, and I remember listening to the trains come through and wondering if I was ever going to get out of town," he says. "In a way that was my first introduction to the blues: hearing that train go by and knowing I wasn't on it."
One of Dead Man's most shining examples of Wilson's strength as a storyteller, the pedal-steel-laced "Sunday Morning Blues" centers on a scene as fully realized and vividly detailed as the pages of an all-too-real novel. "It's a song about a guy who goes out to a bar and bumps into an ex-girlfriend, and then totally loses it: gets drunk, blacks out, makes an ass of himself," says Wilson. "He wakes up the next morning and just can't deal with the day, so he's lying there wallowing in bed and listening to the whole world going on without him. It's a story that's been told many times before—but I like tackling the same old stories, as long as I can put my own perspective into it."
Originally from the small town of LaFayette, Wilson first discovered his love of spinning stories into song in his late teens. "When I was a kid, I was always coming up with ideas for inventions," he says. "So once I found songwriting, I was excited to have a way to create something without a hammer and a nail." After attempting college twice, Wilson formed a band in his mid-20s and quickly made his name as a formidable local act, but eventually felt called to take his music to next level. In 2009 he began making frequent trips to Nashville (an endeavor financed by selling off much of his guitar collection along with a fishing boat), then landed a deal with by EMI Music Publishing and soon started working with his longtime musical hero, the late Guy Clark. "There's that old saying that goes, 'I just hold the pen and God does the writing,'" he says. "But I know from spending time with Guy that everything he did was incredibly intentional and meticulously thought-out. His ability to say so much in such a simple way is very much an art form to me."
Now signed to an artist/publishing agreement with Warner Chappell and Low Country Sound (an Elektra Records imprint helmed by Dave Cobb), Wilson unfailingly finds a profound sense of purpose in the sometimes-exacting work of songwriting. "Back in the Depression era Jimmy Rogers was a big hit, and the reason why was that he sang all these sad songs that let people know they weren't the only ones going through hard times," says Wilson. "There's so many people out there right now dealing with problems like mental illness, but we still don't talk about it nearly as much as we should. So the one thing I hope for this record is that helps people realize that they're not alone, that someone else feels the way they do. Because to me that's the first step to feeling okay again."
BELLY UP PRESENTS
AT THE SOUND
Del Mar Fairgrounds
2260 Jimmy Durante Blvd
Del Mar, CA 92014
THIS SHOW IS NOT AT BELLY UP.
Ticket Price: $45 general admission / $75 reserved seating